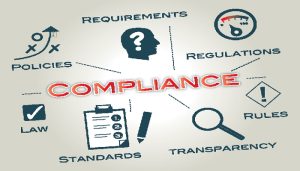 The corporate veil is how you separate personal and business liability and is what protects your assets from the risks of owning a business – maintaining the corporate veil means meeting the legal requirements that prove your business is a separate legal "person."
Business entities are your first layer of defense to protect your personal assets. Once you form a legal entity, the next step is to properly fund and operate your business. This includes corporate compliance operating formalities that will reduce your exposure to litigation and potential tax consequences.
Annual procedures such as regular meetings, meeting minutes, corporate resolutions, filings, record keeping and tax compliance (bookkeeping)
Turnkey Compliance
Let Companies Incorporated do all the work for you and keep you in strong legal standing and your corporate veil in tact.
Compliance Review – Comprehensive review of your compliance standing (for existing businesses) where we will identify what documents are required to ensure your formalities are up-to-date.
Unlimited Legal Documents – We will provide all of the documents necessary for your business, corporations and LLCs.
Personal Guidance – Unlimited one-on-one support from a corporate compliance coach who can answer all of your questions via phone, email or by appointment.
Annual Compliance Calendar – We will create a customized compliance calendar of formality requirement events to help you plan your time.
Compliance Kit – Contains a robust library of resources and legal documents for corporations and LLCs.
Monitoring – Real-time monitoring and reporting as well as auditing of your corporate records with regular contact and review of your compliance status.
Record Reconstruction – We can bring your records to current including business who have never been in compliance or those who have time lapses of the operating formalities.
Filing Assistance – Along with records and legal documents, we will assist with and prepare all state filings for you.
Get Started Today! Simple. Effective. Required. Call Now!