The concept of a virtual office is very popular as small business cut costs and more people work from home. It allows a business owner to display a commercial location without the usual expense. The idea began as serviced offices and executive suites in the 1960s. Today's shared remote infrastructure—virtual space—is an increasingly attractive and viable business option. There are several advantages to having to a virtual office program in the current business environment. Chief among these benefits are as follows:
Confidentiality
Low cost
Time-saving
Administrative assistance and
Tax benefits (especially for offshore virtual offices, depending on where you are a citizen).
Keeps home address private.
At the same time, there are a few caveats to keep in mind when considering a virtual office environment for your business. Be sure to examine the features of a virtual office that relate to your specific type of business before making a final decision.
If you feel that a virtual office is right for you, please contact a representative at the number on this page. Alternatively, fill out an inquiry form on this page.

Early Virtual Office Examples
Forward-thinking entrepreneurs began offering serviced offices and suites to small businesses and/or sole proprietorships in the 1960s. They provided services such as shared meeting rooms, telephone answering services (in the name of each client's company), and mail drop-offs, pick-ups, and forwarding. The biggest selling point of these shared physical spaces was economical. Without a huge overhead (rent, salaries, office furniture, equipment, etc.), budding businesses and one-man operations could save a bundle. The money they saved could then be used to grow their business and generate more income.
Another perk of sharing office services has to do with a company's consumer-facing image. Companies that provided serviced business suites took care to choose a business street address, sometimes in a cosmopolitan city. Their clients, using the address for their businesses, could in turn present a more impressive image to their own clients. In the business world, then as now, a company's image or brand is vital. Having a prominent address gives a business a more polished and more successful identity, which can inspire consumer confidence.
The Modern Virtual Office
Several factors contributed to the evolution of serviced business suites to the virtual office that we know today. Some of these factors include the advent of the internet, more affordable personal computers, the World Wide Web, and powerful telecommunication software and search engines. Additionally, smartphones provide yet another layer of connectivity that boost the usefulness and desirability of virtual offices.
The modern virtual office goes beyond the scale of economics and a prestigious business address. Make no mistake though, these are still attractive and coveted aspects of having a virtual office. Lowering operating costs while boosting one's brand are worthwhile and perpetual business goals. However, in this technologically-powered, post-internet world, having a virtual office means so much more. Three of these advantages are covered below.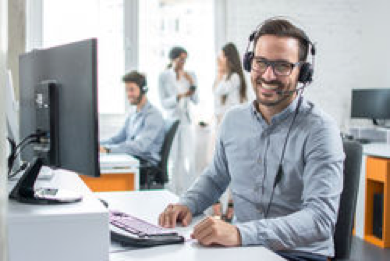 Virtual Office Advantage: Digital Services
The amenities provided by traditional serviced business offices are standard features of most modern virtual offices. Phone calls are answered in the name of your business, mail is received and forwarded, and accounting books are kept current. Technology however, gives modern virtual offices a boost that places them several notches above the original version. They now offer a slew of digital services that existed only in companies' wish lists before.
Virtual offices use powerful technology platforms to "gather" individuals in one digital meeting room even though they may be located in different sections of the world. They offer a wide range of IT services that clients typically pay for on a per-use basis. Some of these services include website design and web-hosting and worldwide call transfers using VoIP technology (Voice over Internet Protocol). Having a professionally-managed web presence is a boost to almost any type of business. It's a 24/7 advertising billboard along the digital highway that's always blinking and attracting a potential customer's attention.
Perhaps one of the most useful benefits of the modern virtual office is a more efficient time management paradigm. After all, time is the one resource that no one can get back once it transpires. Modern virtual offices allow workers to manage their time without sacrificing productivity. Without the hassle of daily commutes, workers start work refreshed and ready to face the challenges of the day. There are some types of work that do not require workers to be at their desk at set hours. A virtual office allows workers to shift their work load during the time of day when they are most productive. Digital technology keep workers connected without being physically present to one another. This allows for close collaboration and a free exchange of ideas on a constant basis. These are only some of the time management benefits that modern virtual offices provide.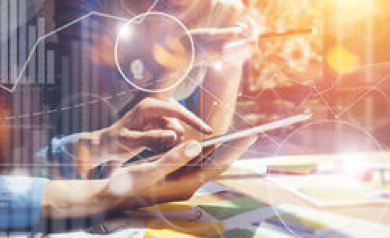 Virtual Office Advantage: Administrative and Tax Benefits for Offshore Addresses
Some businesses benefit greatly from having an offshore virtual office; that is, one with a non-U.S. address. Companies that offer this service go the extra mile for their clients. They typically take care of registration documents, tax matters, and accounting issues that come with an offshore identity. These services include (but are not limited to) multi-currency bookkeeping, internet banking and transactions, and updating general and nominal ledger accounts.
The laws governing international business companies in several offshore locations offer a number of advantages for many types of businesses. Having a virtual office in an offshore location that has laws favoring your kind of business is a cost-effective way of reaping those benefits. Imagine enjoying these perks without having to go through the bureaucratic maze of a foreign country. An offshore virtual office can help make that a reality for your business.
With the current state of digital technology, no one need ever find out that your offshore address is virtual. Of course, different countries have varying levels of digital infrastructure. If you are considering an offshore virtual office, be sure to do diligent research. Tax and accounting benefits aside, your business will suffer if your clients cannot get in touch with you easily and consistently.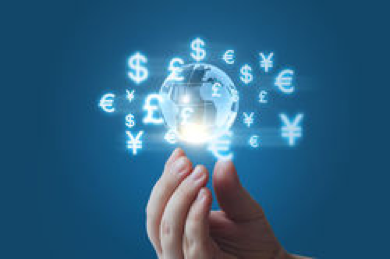 Virtual Office Advantage: Ability to Attract Top Talent
The cubicle culture is on its death throes. This is the prediction of tech experts who champion the arrival of the digital nomad on the business horizon. One of the most coveted perks in today's professional workplace is the work-from-home option. Or, in many cases, work from the corner coffee shop, or the park, or even the beach. Because the digital infrastructure that makes this possible already exists, workers on top of their game know to ask for it before signing an employment contract. (Often enough, even this contract can be signed with a digital signature.)
Businesses that offer this perk can draw from a deep pool of talented and digitally-savvy professionals. Although one may think this pool will consist mostly of Millennials, this is not always the case. Professionals of all ages and with various academic and work backgrounds are learning to take advantage of remote work environments. As a business, having a virtual office expands, rather than limits, your talent pool. The virtual office is not a trend. Rather, it is the face of the changing workplace. One that is founded on, shaped, and directed by a dynamic and resilient digital infrastructure.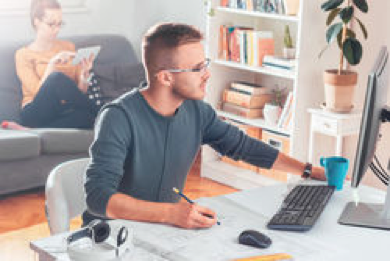 Virtual Office: A Word of Caution
There is rarely a one-size-fits-all solution for the challenges that businesses encounter today. Even businesses in the same industry often require tailor-made options that cater to their unique and specific set of circumstances. This holds true for virtual offices as well. While it remains an attractive alternative for many types of companies, it may not always be the right choice to make for your business. It comes with its own set of challenges. For example, some workers crave the face-to-face interaction that takes place in a brick-and-mortar office. Companies with workers hailing from far-flung corners of the world could encounter scheduling conflicts. Some clients are inherently distrustful of companies that exist only in the "digital realm." The bottom line is simply this: every business option comes with a set of pros and cons. It is best to weigh each carefully in light of your business goals before jumping on the bandwagon.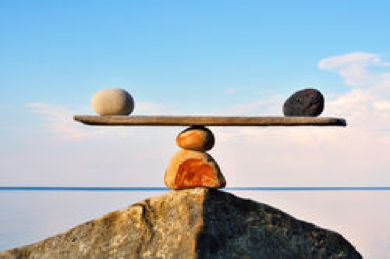 Conclusion
Virtual offices were conceived as a way for small businesses to save money and to furbish their image. The modern virtual office retains these features, but has evolved in significant ways by tapping the power of the internet. Other factors, such as affordable personal computers, smartphones, Voice over Internet Protocol, and the World Wide Web have also contributed to the spread and desirability virtual offices. Most offshore virtual offices offer tax and accounting services in addition to the usual array of digital services. Businesses are discovering that having a virtual office that allows workers to telecommute propels them to the top of the list of firms to work for as far as tech-savvy professionals are concerned.
As with any business solution, however, it is best to consider virtual offices against the broader background of your particular business. Advances in the digital arena continue to astound even some of the most technologically versed individuals. In addition, virtual offices do go far in making work-life balance more achievable. But as to the bottom line—whether it's right for your company or not—only a careful study and reflection can address that issue.